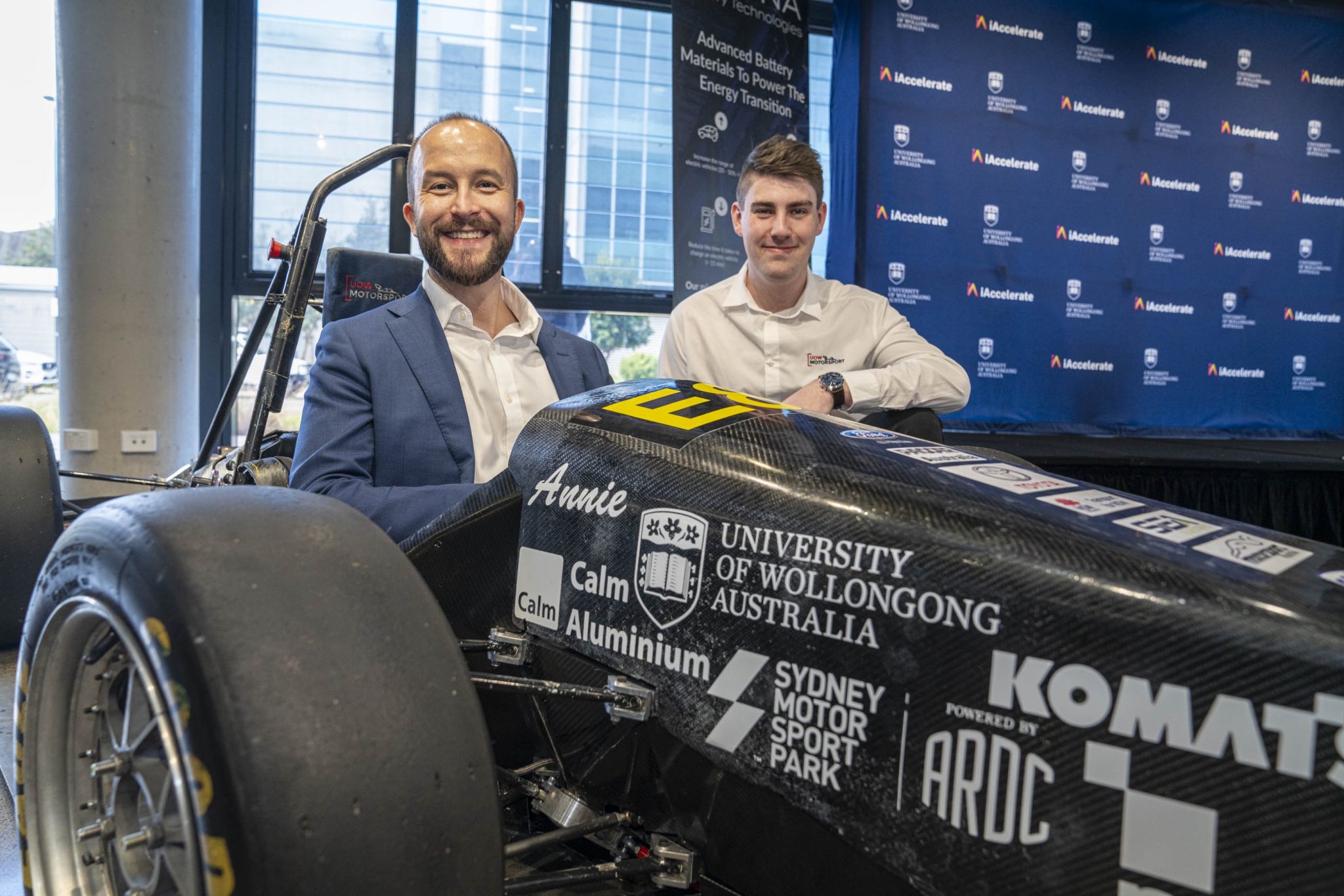 Sicona deal energises UOW Motorsport
A major new partnership will power the Illawarra's flagship motorsport team to take on the best competition from rival Australian and international universities. 
Wollongong company Sicona Battery Technologies has today announced a major sponsorship of UOW Motorsport at a special event in iAccelerate at UOW's Innovation Campus. 
The deal will see Sicona become a major sponsor and provide financial support as well as expertise from the company in helping to source and optimise the batteries which power the team's electric vehicle. 
Sicona CEO and Cofounder Christiaan Jordaan said the company was proud to form its first major Illawarra sponsorship with UOW Motorsport. 
"We couldn't be more excited to partner with the team from UOW Motorsport and we see this as a long-term partnership for Sicona," Mr Jordaan said. 
"UOW Motorsport is an organisation which thrives on the entrepreneurial attitude and the innovation of its people. That is integral in our own company and something we are keen to identify and foster in the organisations and events we support. 
"The timeframes have meant that the cells powering their electric vehicle won't be produced by Sicona this year, but we see this as an ongoing relationship, and we hope to see the team totally powered by Sicona cells into the future. 
"Our Sicona team is excited to share their experiences and expertise with UOW Motorsport and we have people in our team who have been involved in the development of cells to power advanced satellites, so we can offer world-leading innovation and support." 
UOW Motorsport competes in the Formula SAE competition, an international event hosted by the Society of Automotive Engineers, (SAE). The competition requires the next generation of engineering professionals to design and build an open-wheel, formula-style race car. 
The culmination of the project occurs when each team takes their car to their regional event, where teams are pitted against other local and international teams in a series of both static and dynamic events, including design, cost, acceleration, one lap sprints and endurance events on an auto-cross style track. 
Worldwide there are eight competitions held each year and the one for Australasia, will be held in Winton, Victoria, later this year. 
UOW Motorsport Business Director Connor Harvey said the partnership will help secure the team's performance and success for years to come. 
"Our team always strives for success and to push the performance of our EVs every year, and this fantastic opportunity will help us achieve this goal not just this year, but in the future as the team evolves and adapts to the competition." Mr Harvey said.  
"We are a team built of students who are wanting to push their learning to another level and show off what the Illawarra can do. By having an opportunity to tap into industry leading experts and products, we can take this one step further."  
"The power for our cars come from a large custom-built battery which has to last 23km of intense driving, but also accelerate quickly. Any advantage we can get from improving our battery is one worth taking.  
"UOW Motorsport is extremely excited to see what the future holds with this partnership."  
 Sicona Battery Technologies expects to be able to announce support for another major Illawarra organisation within weeks. 
South Break Media CEO Julian O'Brien is the PR and communications manager of Sicona Battery Technologies
About Sicona:  Sicona is a Wollongong-based, global materials manufacturing and innovation company targeting next generation lithium-ion battery performance. Our mission is to deliver enabling technologies that persistently tear up the envelope on battery and battery materials performance and innovation. Producing best-in-class materials in a scalable, cost-effective way to power a sustainable future. Sicona's current generation silicon-composite anode technology delivers a remarkable 50-100% higher capacity than conventional graphite anodes and its anode materials can deliver more than 50% higher cell energy density than current Li-ion batteries.