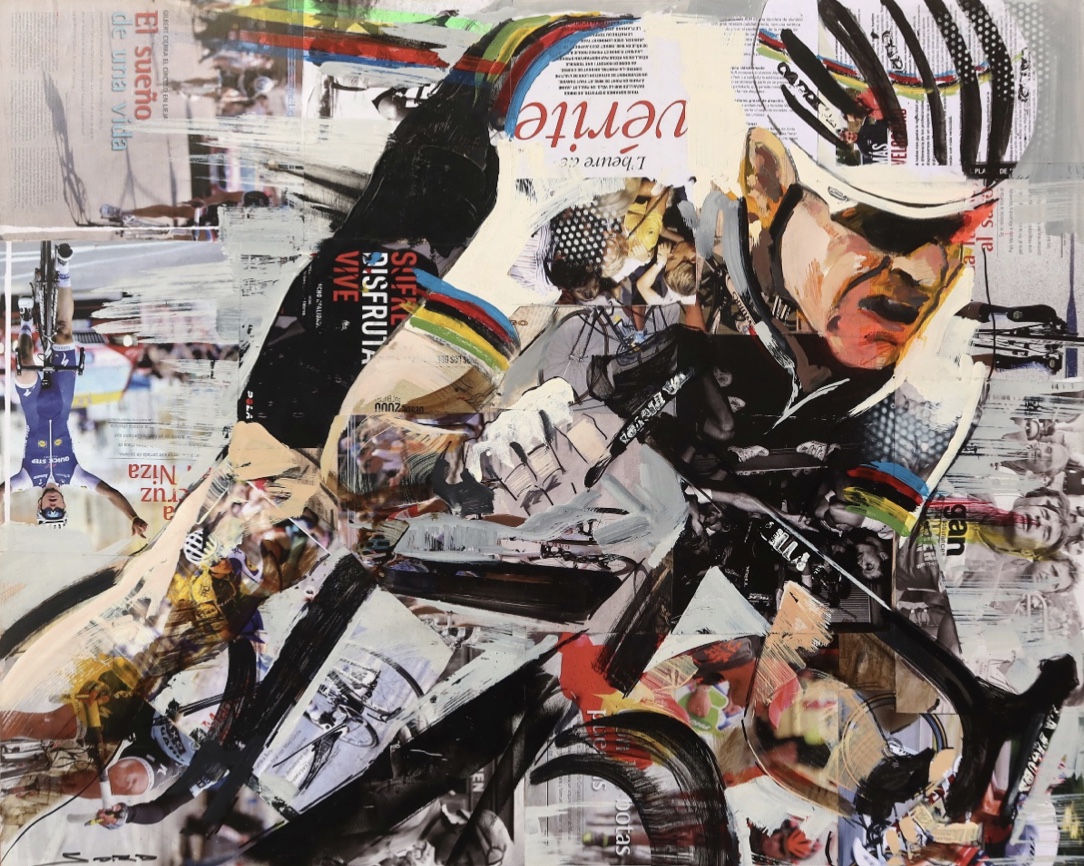 Former cycling pro and renowned artist Miguel Soro to exhibit for Wollongong world titles
Art, culture and cycling come together with the opening of a unique exhibition in Wollongong on Sunday. 
Chasing Rainbows, an exhibition by Spanish artist and former pro cyclist Miguel Soro, opens at the Sage Hotel Wollongong on Sunday and will be open free to the public across the 2022 UCI Cycling World Championships until September 25. 
The exhibition features 25 of Soro's original collage artworks depicting heroes of cycling, both Australian and international. 
The artist was exhibited all over the world exhibited including both the centenary celebration of Fausto Coppi in Italy and during the Tour de France. This is his first exhibition in Australia. 
"The Sage Hotel Wollongong is very excited and privileged to be able to showcase Miguel's artwork," Sage Hotel Wollongong general manager Mark Upton said. 
"It is an exciting time for Wollongong and especially Sage Hotel Wollongong and to be able to share with all of our guests and spectators the incredible artwork from Miguel that encapsulates the true essence and history of world cycling is a true honour.  
"We look forward to welcoming everyone from around the world to the hotel to experience an incredible exhibition. " 
Destination Wollongong general manager Mark Sleigh said the exhibition formed an exciting and integral part of event celebrations. 
"Art and culture are an important part of the fabric of Wollongong and having a world class art exhibition as part of the largest sporting event we have ever hosted is the perfect fit for the city," Mr Sleigh said.
"We look forward to welcoming Miguel and Chasing Rainbows to Wollongong and giving the community the opportunity to experience world class art as part of the delivery of our Olympic moment on the international stage".  
The Sage Hotel, 60-62 Harbour Street, is located close to the finish line of the UCI World Championships, and admission to Chasing Rainbows is free. The exhibition is organised by Oakbrew SWISS SAGL. 
Miguel Soro will be present in person throughout the week and available to sign original artworks as well as limited edition fine art prints.